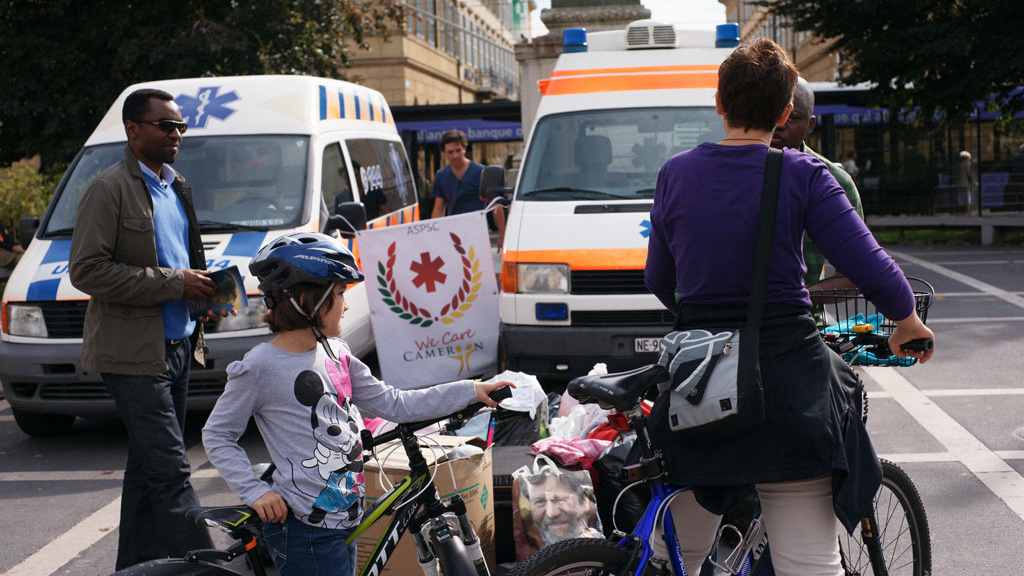 If your aim is to support an efficient and transparent organisation with precise and realistic goals, supporting ASPSC is a good choice. We guarantee that all monetary donations are 100% spent on material and necessary equipment. Our members and working staff are all true volunteers and receive no financial compensation for their work and expenses.
Financial Aid
Your financial support enables us to purchase further medical equipment and consumables where they are not available through donations. Currently our focus is on collecting contributions for a CT scanner. Since the ASPSC is officially acknowledged by the competent Swiss Authorities as a humanitarian non-profit organisation, you will receive a gift certificate for every donation.
You can donate via PayPal or through direct money transfer to the account below:
Account:
Banque Cantonale Neuchâteloise
2001 Neuchâtel, Switzerland
IBAN:   CH35 0076 6000 1016 7795 5
BIC:     BCNNCH22
For the benefit of:
ASPSC
c/o Secrétariat de gynécologie
Rue de la Maladière
452000 Neuchâtel
Switzerland
Purpose: CMCS, BAFOUSSAM, CAMEROON
Donations of Materials
In order to further develop our possibilities, we need more medical equipment and medical consumables like sutures, gauze, band-aids etc. We particularly appreciate drugs as long as they have not expired or will expire during shipping! A list of needed supplies can be downloaded here in PDF format. Depending on quantities and urgency we either transport the donated articles as part of our regular container shipments or pack them into our own suitcases to hand-carry them to Bafoussam.
Sharing Your Ideas with Us and Help in Creating Further Contacts
Talk to your friends and colleagues and pass the link to our website. By creating new connections and friendships you are helping us a lot!!
If you have an idea about how to help us collecting further funds (fundraisers etc.) please feel cordially invited to share any input you have as soon as possible and do not hesitate to contact us! (link to contact form)
Additional Storage Facility
If you know a storage facility which is more conveniently located than our current storage at the Hospital of La-Chaux-de-Fonds please let us now as soon as possible! (Link) In the interest of making the best possible use of the funds available, while the quality of the facility should be adequate for the purpose the price should be as low as possible.
Active Help in Switzerland
Help us to pack up the cargo!
We have a storage area within the premises of the Hospital of La-Chaux-de-Fonds in the Canton of Neuchâtel. Every couple of months we fill our Container with donated and acquired material and ship it to Cameroon. While loading the Cargo into the Container we are always grateful for every helping hand. Please contact us by e-mail! (Link) The next Container will be loaded in (Spring 2018).
If you own or have access to a large vehicle or truck please let us know and bring it along!
Active Help in Cameroon
For our periodic missions we not only need medical personnel but urgently also professionals from various other areas who are in a position to help us completing and equipping our second hospital unit and help with the installation of medical equipment.
Medical Personnel

Doctors of any specialisation – including Pathology
Nurses: Ward, Emergency, Wake-Up Room, Gastroenterology, Anaesthesia
Technical Operating Assistants
Physiotherapists

Craftspeople of any discipline (→ need to bring their own tools), in particular

Carpenters
Plumbers
Electricians

Computer Specialists
Medical Technicians
Our Partners Awa Fonka Augustine, Governor of the Province of Western Cameroon On September 27, 2016, Dr. Talla and his current team of volunteers attended a reception by Sir Awa Fonka Augustine, Governor of the Province...

Categories:

Share Project :